NORTHERN NIGERIA TODAY: EDUCATION AND REORIENTATION AS A WAY FORWARD
Achieving Peace through education and Reorientation in Northern Nigeria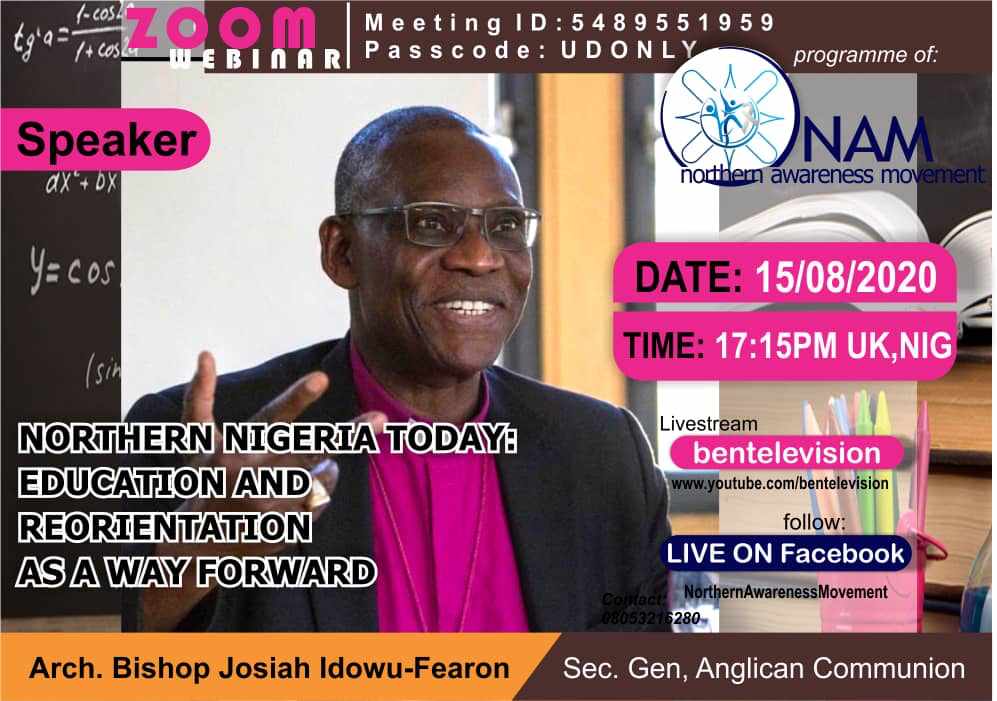 It is a great honour to be invited to join my sister and brothers on this panel of discussion and share a few reflections on how we can achieve peace through education and reorientation as vehicles, particularly in our part of Nigeria.
We see many weapons used in this region – there is conflict, and the weapons that are used cause great harm, not only to individuals, but to families, to communities and to our society as a whole. But we have sthe tools and weapons of our own to push back against this violence, which is very often set up as a conflict between Christians and Muslims. Nelson Mandela famously said, "education is the most powerful weapon which you can use to change the world." And he was right.
Education is the weapon that we must all be willing to use in our efforts to live in peaceful coexistence with one another. And that is why some of our current leaders have taken a bold step to fight illiteracy, truancy, incompetence and the general neglect of the educational sector in Arewa. I would want to use this forum to appreciate the Gov. of Kaduna State who decided to fight this battle even with the threat that he might lose his bid for a second term of four years in the office of the governor of the state. Today, Kaduna State is moving forward with a new focus and orientation in education. The records are there for all to see: the enrolment in our Primary schools has moved from 1.1 Million in 2015 to 2,014,145 in 2020! The teachers are more competent, the environment more conducive and kids are being introduced to computer literacy at the primary level! We call on other governors to emulate this revolution in the educational system of Arewa
Another leader said, Education is our passport to the future, for tomorrow belongs to the people who prepare for it today. That was Malcom X.
CHALLENGES:
POLITICAL LEADERS: Our "tomorrow" is the future and our "today" is now, this current administration in Northern Nigeria. In order to own the future, our political leaders must, as a matter of urgency invest heavily in the educational sector of governance from the primary through to the tertiary as we are currently experiencing in Kaduna State. We must modernize our traditional Islalmiyah and include secular curricula.

RELIGIOUS LEADERS: We must, as a matter of urgency cooperate with our political leaders and set up CENTERS FOR THE STUDY OF CHRISTIAN-MUSLIM RELATIONS as we have done in Kaduna State. Why should we promote the KADUNA MODEL OF Reorientation? C.S. Lewis said, Education without values, as useful as it is, seems rather to make man a more clever devil.
I would encourage you-our Governors- wholeheartedly to see how increasing government investment in religious education can be one pillar of a response to violence and to conflict. The key purpose of education is to open our minds to new thinking – to understanding the views of others. It is not simply to affirm what we already believe and think we know. This can be especially damaging when it comes to religious education – or a lack of religious education.
When we think we know all we need to about the religion of the 'other', – whether you are a Christian or Muslim – and are unwilling to expand your knowledge, there is a very real risk that you are yourself part of the problem, rather than being part of the solution. How can we ensure that our youth are continuously learning about the beliefs of those who are different from them? Through good religious' education. This is something that can be championed by government, and supported by religious leaders and through institutions like Kaduna Centre for the Study of Christian-Muslim Relations.
As I speak of religious leaders, and speak as a religious leader, I also acknowledge that we have a significant and weighty responsibility to practice what we preach when it comes to our understanding of our own religion and a good, working knowledge of the 'other' religion. In my travels around the Anglican Communion as its Secretary-General, I am sometimes concerned to discover that religious leaders do not have an in-depth knowledge of what it means to be an Anglican. We are getting our own house in order through supporting our bishops in accompanying them in their role, and through more emphasis in theological education, which is something that we have invested in at our offices in London and in our colleges, seminaries and other institutions around the world.
We must take a similar approach here in the Northern States. Religious leaders need to be accountable to one another. We must be willing to challenge one another when we hear things that are false. This is particularly important when we speak about the 'other'. Our congregations and our followers trust us. We have an obligation to them to speak the truth – and to actively ensure that we are speaking truth, by educating ourselves to a high enough standard. To be educated in this way does not mean that we must agree with everything that we learn. Not at all. There are many differences within and between religions that express a diversity of beliefs. But we must be willing to hear what others believe, and to be able to grapple with these issues in a peaceful manner.
And we must proactively find the opportunities to grapple and discuss. Ignorance and all that comes with it – fear, hatred, and conflict – happens because we separate ourselves from those that we disagree with and from the 'other'. We might do this out of concern for ourselves – that if we are seen to be speaking with someone who is the 'other' that it will damage our reputation with our own communities. But this also happens because of fear and sometimes hatred. These are things that we must also work against. And we must resist this temptation to separate ourselves from those who are different and with whom we disagree.
Therefore, for a reorientation, we must engage in activities together. It is not enough to simply have knowledge and understanding in your head. You must also practice what you learn. Religious leaders can set a good example in engaging in activities with leaders from the 'other' religion – perhaps sharing a platform on issues of mutual concern, or taking part in activities that build trust and relationships. And these examples must be encouraged at all levels of our society, from the very top right down to activities for children in schools.
CONCLUSION
I come back to the quote that I began with from Nelson Mandela: "education is the most powerful weapon which you can use to change the world." I strongly agree with this statement. But we also know that education is a lengthy and ongoing process. It does not happen overnight. It requires commitment. Investment. Sustainability and Cooperation. Another wise man said this about education: "Knowledge is power. Information is liberation. Education is the premise of progress, in every society, in every family." Those are the words of Kofi Annan. I am struck by the phrase 'education is the premise of progress'. That is what we need to focus on – progress. There is much to do, and education alone cannot solve our problems. But where we see progress, we find encouragement.
We have seen progress in Kaduna State since the revolution in the educational sector of Mallam Nasir El- Rufa'i' administration. The Kaduna Centre in its 15 years has also made much progress. Many people have left the institution transformed, committed to making progress and to being peace builders ( bunat al-salaam) for our communities. Let us hope and pray that more of our Governors would also give qualitative education a priority in their States as well as support similar institutions like Kaduna Centre for the Study of Christian-Muslim Relations.
We need a reorientation in the way we perceive and relate as Yan Arewa - Muslims and Christians! Based on the clear teachings of our Scriptures particularly Q49:13 I propose the following four principles from primary right through to tertiary levels of education:
Mutual understanding-ta'aaruf (Knowledge of the other)
Mutual engagement- ta'aawun (cooperation with the other in Righteousness and Piety)
Mutual contribution- tasaabuq (competing with each other in Good works) Mutual support.-tadaafu'
Thank you.